Vedanta Netralya clinics
We aim to care for our patients compassionately in a technologically cutting edge environment using the latest advances in clinical research.
A cataract is a cloudy or opaque area in the normally clear lens of the eye. Depending upon its size and location, it can interfere with normal vision. Most cataracts develop in people over age 55, but they occasionally occur in infants and young children or as a result of trauma or medications. Usually, cataracts develop in both eyes, but one may be worse than the other.
What are symptoms of cataract?
Surgery is the only way to treat cataract
During cataract surgery, your cloudy natural lens is removed and replaced with a clear artificial lens. That lens is called an intraocular lens (IOL)
Phacoemulsification is the most advanced type of cataract surgery with very fast recovery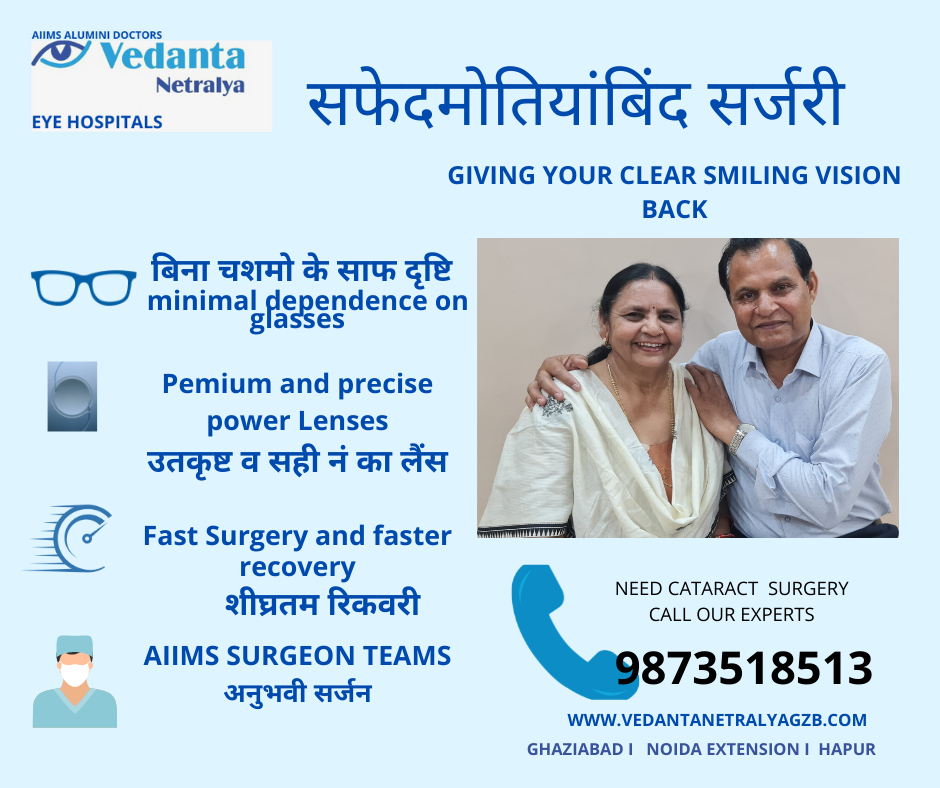 When should we get cataract surgery?
Cataract surgery should be performed as soon as it begins to interfere with your vision and you start to get difficulty in carrying out day to day activities. It is when vision is still blurred after change of glasses Cataract surgery is safest in early stage whenever there is difficulty in vision.
Post op recovery and precautions
Cataract surgery is done on daycare basis and require only short admission
Frequently Asked Questions
Our comprehensive approach to patient care means that your care can be managed all under one roof. See what patients usually ask about their problems.
CATARACT SURGERY REVIEWS
Our Patients valuable reviews for us. See what they said about our Eye Hospital.